A wooden structure can be a key focal point of your garden; transforming a space into a unique and practical extension of the house. Always mindful of the environment, Stuart Harris ensures that the design, type of construction, wood and the finish of the structure is in harmony with the surroundings and its intended use.
Anything is possible from gates of a driveway to this original summer house.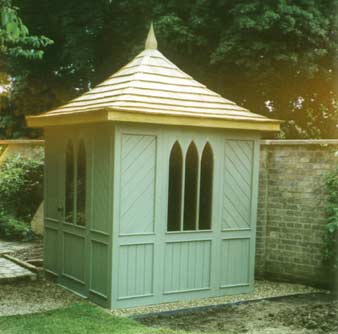 For a prestigious entrance to your driveway, court yard or garden there can be nothing better than handcrafted gates. You can see how well proportioned these gates are, with each diagonal timber chosen to produce the pleasing pattern. This pair of hardwood gates is finished with a weather proofing preservative to produce a durable sheen. Impress the neighbourhood and call on Stuart Harris to measure you up a pair today.
Planters in a discreet area that can be moved about, made in Sapele hardwood and hand painted with water based paint, lined with plastic membrane in a 18mm plywood box, the lid of the planter can be removed and the structure lifted off to leave the plywood in situe.